Shoe Customization 101
(I'm sorry about the slow loading high-resolution pictures, but the details they provide are well worth the wait.)
Lesson 1: Changing Colors
If you're a shoe collector or hobbyist you think about it everyday... "What if I had my own pair of custom kicks?" or "What if I could have those custom team/player exclusive colors?"
This is the reason why we're willing to deface a pair of precious J's... just to make them ever more special. That was the attempt with this little experiment. TreMaster wanted a custom pair of SHOX BB4's for a basketball tournament. I was to take the new white, silver & lapis SHOX and paint the silver portion blue to match the SHOX portion and Tre's uniforms. Unfortunately my efforts to find the correct color fell short and the project died on the operating table. However, before I attempted on tweaking a $150 pair of SHOX... I decided to try out various products and techniques on a "sacrificial" pair of Nikes.
Many NTers are attempting to modify their kicks using acrylic paint. (Fellow NTers KVN and Methamphibian NYC are the resident experts at NikeTalk.) I however, wanted these shoes to be "game-safe".... after all, what's the point of having custom kicks if you can't show them off in a game. (Caution: If you're going to wear custom kicks in a game, you'd better be able to bring it!) For these reasons, I wanted to use products that were designed for changing the color of footwear. Here are my efforts on the test subjects using two popular products.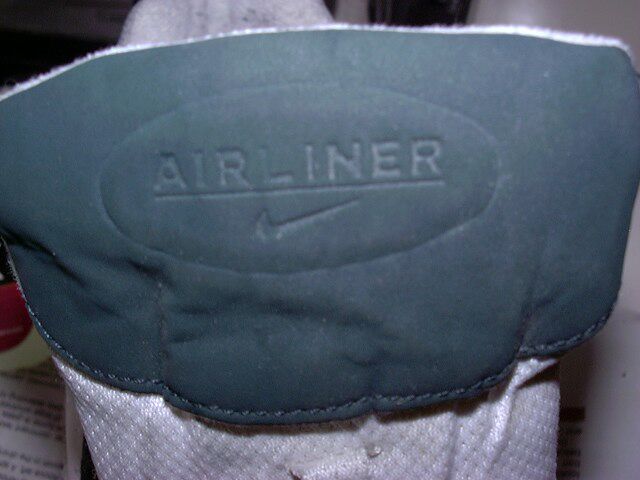 The Victims!
Not much of a sacrifice in case I mess these up!
Liquid Leather
A. Materials: Liquid Leather Permanent Refinisher (Navy)
Acetone (Nail Polish Remover)
Foam Applicator (Provided, or you can pick up a foam brush at any paint store.)
B. Preparation: Clean the surface of the shoe to be refinished with the acetone. You'll notice that the factory finish of the shoe will be removed. The surface of the shoe will appear tacky to the touch. Repeat as necessary, a minimum of two times is required for most sneakers.
C. Application Apply in even strokes. This product is real watery and will run! Be careful and don't try to put too much on initially. Apply a thin coat, let dry and apply additional coats ass needed to reach the effect you're looking for. Clean up any spillage immediately before the product dries.

Pictures above are after one coat

Pictures above are after two coats
D. Results Ok, so I over did it a little. However trying to control this product is extremely difficult and I had some extra in the can so... I know... I know.... stupid, huh?
Based on my results Liquid Leather does create a flexible "skin" that will hold up to normal wear. Unfortunately it doesn't fair as well for changing the color of the shoes. Look for something will a little better coverage. It is pretty durable though.
Nu-Life color spray
A. Materials: Nu-Life color spray (imported by Kiwi Brands),
acetone,
masking tape
B. Preparation Clean the sneaker surface to be painted as explained above. Mask off the areas you don't want painted. I used painters tape. I highly recommend you do the same... its more expensive, but it is designed for easy removal without tearing or leaving a sticky film. Also, make sure you read the directions on the can. (Don't do the "turn the can upside down" thing to "clear" the nozzle though... it doesn't really work and you'll waste paint.)
C. Application I applied two even coats and allowed the shoes to dry in between as recommended by the manufacturer.
D. Results As you can see Nu-Life is much more controlled than Liquid Leather. If I had taken the time to do a better tape job the over spray would have been much less severe. This is obviously a better product for changing colors. (The shoe repair guy that sold it to me said that it will eventually wear off and I'll need to apply additional cover-up coats down the road.)
Conclusions
Nu-Life is obviously a better choice for changing the color of your shoes. You can find it at most shoe repair stores and at some online leather works and shoe repair sites. (You can't buy it from Kiwi directly.) There are numerous colors available.
Liquid Leather can be purchased directly from the manufacturer R.I. International, Inc.
If I needed to change the color of an actual pair of sneakers, I'd probably use Nu-Life. For details I would have to recommend acrylic paint, like Liquitex.
For more custom painting techniques, check out Methamphibian NYC's messageboard.
Next Up:
Lesson 2: More Customization
(c) 2001 OrindaHoops.com All rights reserved. If you sell shoe care products, or if you customize shoes and would like to sponsor this page, please e-mail our sales department.