orindahoops.com
---
Home
What's New (The Skinny)
Our Team (The Ballers)
About Us
Contact Information
Messageboard
Links
Members Only
For Sale
Terms of Service
---


---


Sept. 11, 2001 --
Our thoughts and prayers are with the families, friends and loved ones of those that tragically lost their lives or were injured in New York, Pennsylvania and Virginia. Our prayers are with all of you.

The orindhoops.comStaff

---

---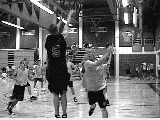 (c) 2002, orindahoops.com
All Rights Reserved. We are not responsible for the accuracy of any content of this website. Please contact our staff if you have any questions or comments.
webmaster@orindahoops.com

Please help support our site by using this link to purchase from amazon.com
---

Welcome to orindahoops.com
Welcome to orindahoops.com The original intent of this website was to serve as the official home of the Orinda Matadors Basketball Club, which was the off-season entity for the Miramonte High School (Orinda, CA) Varsity Men's basketball program. In the spring of 2003, a group parents voiced their displeasure in the coaching style of 38 year veteran coach Tom Blackwood, mostly due in part because his son Chris was the star of the varsity team in 2002-2003. The direct actions of these parents resulted in Mr. Blackwood stepping down as head basketball coach, and Chris Blackwood transferring to another school. In late June 2003, the Orinda Matador Basketball Club was disbanded permanently. (For more information on the Blackwoods' story, please see the following link .) Orindahoops.com is in the process of restructuring our website and in the future will move in a "new" direction. We appreciate your patience as we are updating our website.

Under Construction

The orindahoops.com Staff
---

Contacting orindahoops.com
Our staff is available to answer any questions you may have. Please contact us at the appropriate email address below.

To report website problems or broken links: webmaster@orindahoops.com
To contact our sales office regarding advertising or on-line merchandise: sales@orindahoops.com
All other inquiries: webmaster@orindahoops.com
---
Terms of Service
orindahoops.com does not endorse the content, messages or information found on the Message Board and, therefore, orindahoops.com, its associates, and affiliates specifically disclaim any liability with regard to the message boards and their content. The board moderator(s) and host are not authorized spokespersons of orindahoops.com, or any of its associates, or affiliates, and their views do not necessarily reflect those of orindahoops.com.
orindahoops.com reserves the right to disclose any information it deems necessary to satisfy any applicable law, regulation, legal process or governmental request. orindahoops.com also reserves the right to edit, remove, or refuse to post any information, comments or materials, it deems inappropriate and retains sole discretion to do so.
If you have any questions regarding these Terms of Service, please contact our Staff.
Thanks for your continued support.
The orindahoops.com Staff